Update Version - 5 New Patcher
Evolved PWI:

C

h

r

i

s

t

m

a

s

S

p

e

c

i

a

l
(Patch V5) - New Patcher

C

h

r

i

s

t

m

a

s

S

p

e

c

i

a

l on Evolved PWI
Its Christmas everyone!
Where could you celebrate the upcoming holidays better than on everyones 2nd home - Evolved PWI?
Exactly, nowhere!
Enjoy the Event and merry Christmas from the Evolved Staff
The Evolved Christmas Special is quite unique and will surpass your expectations! (Hopefully).
How to participate
The Event has 4 different rewarding mechanics, that will offer you methods to farm various Christmas Rewards.
Rewarding Mechanics:
The Arena - Identical to our Halloween special, you may access the Dungeon if you are in a

Squad of 2~10 people.

Access the Arena through our Santa NPC in Archosaur West
Note 1: The Quest will appear only if you are in a Squad.
Note 2: There are Arenas for: 30~55 | Lv.56~100 | LV.101+ Players. So make sure, your Squad members are all in that range
Christmas Invasions -

We have scheduled 3 Invasions, that will be held in the following cities:

Archosaur City (All areas)

Etherblade City

City of Lost

City of Plume
Tellus City
City of Raging Tides
Dreamweaver Port
The Invasions will take place at the following automated Times: 2:00 AM, 10:00 AM, 18:00 PM (Server time).
Christmas Quests - Available at the new NPC Reindeer at Archosaur West, it will contain the following Quests:

Three Bosses (Depending on your Level you will face 3 different World Bosses, that you need to kill)
Kill the Snowmen (These Quests are time based, and will be an addition to Invasions as they work only during Invasions)
Channarong (Alpha World Boss - Channarong is back! You will access him through the NPC Teleport to Open World Arena which is a PVP zone. He will respawn: every 1 hour and is quite strong, so you better bring as many friends as you can get! You may attack Channarong only if you are in PvP mode.
Note: Channarong and Three Bosses are Daily Quest, while Kill the Snowmen depends on the Snowmen invasions
Christmas Items:
The Christmas Special will introduce the new Tier system, based on 3 Packs, that will be only available during Christmas:
Christmas Gift - Gold
Chance to give:
Christmas Gift - Purple
Chance to give:
Christmas Gift - Green
Chance to give:
Angel:
This item is exclusively dropped by Invasion Mobs or Channarong - Alpha World Boss, considered the rarest of ALL.
These Gifts are being rewarded by the Rewarding Mechanics at Reindeer NPC available through all the Quests listed above!
Note: Depending on the Difficulty or Level you may be rewarded better Rewards!
Rewards:
All Items, that the Christmas Special has to offer are available at the Santa NPC in Archosaur West. You will find many unique Items such as:
Christmas Gimmik:
To make the Invasion equally fair to all classes, we have decided to add a little feature to it, which we hope that you all will enjoy!
You may access at the Reindeer NPC, the following Christmas Weapons:
Snowball Launcher + Snowballs (All other classes)
Snowball Fists (Archer | Duksblade | Assassin)
With these Weapons everyone, regardless of Level or class should have a fairly equal participation in all the Invasions.
Preview: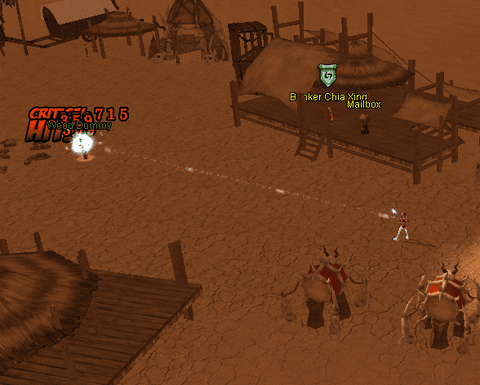 Note: These Weapons will only be available during the Christmas special, and will later on get eventually removed.
Other Changes
Fixed Moonlight Sash (PvE) and Shining Moon Charm (PvE) to require the correct Belts.
Removed mechanics from MM1-MM2 final bosses and increased HP/Def/Damage by 20%-40% - You won't be 1 hit anymore randomly
Resource Carts as well as Resource Bases are from now on only attackable if you are in PvP Mode
Reduced entrance to Delta - Valley of Reciprocity to

3 players minimum

Cudgel of the Barbarian Lord (Legendary Weapon) was added to the Emissary NPCs - Legendary Title Weapon
Increase stack on: Wraith Order: Cenminator, Watcher of Schasm, Deiciter Black, Deiciter White from

99

to

9999

Divine Order of Longivity can now be sold to NPCs
Updated Guild Icons
Blacksmith, Craftsman and Mysterious Merchant were added to Lunar Glade Dungeon - Starting Area
Custom Titles were sent to their owners
Launcher update to V2 in order to fix some known bugs
The drops from first 7 dwarf bosses in MM2 have been improved
Guild Recruitment
On the 1st week of 2022 we will reset Territory War - Map. So we decided to offer an option for all guilds, whether experienced or young, to have their own unique recruiting Announcements - Automated by the Boardcast System.
How does it work?
You can obtain these Tokens from the Cubi shop. Mail them to an Admin:
Inculding your Guild recruitment text, example:
Evolved is recruiting new members! If you are looking for fun, this is the guild for YOU. DM: - Leader Name -
Lasts 7 Days
Lasts 14 Days
Lasts 30 days